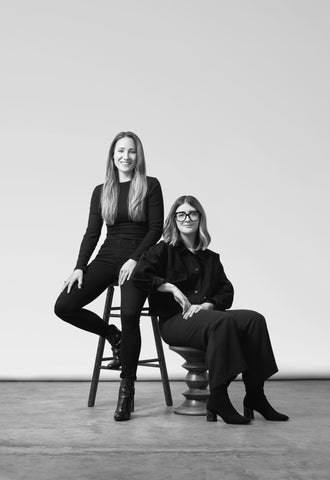 Collection:

Tanja Hiinder and Lauren Bugliarsi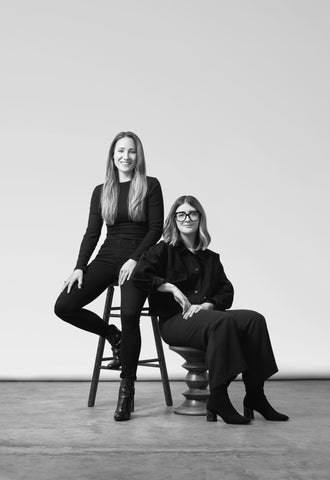 Tanja Hinder and Lauren Bugliarisi, the innovative design duo behind Marrimor Objects, both shoot for the moon, creatively speaking, albeit from reverse angles, drawing on their different histories. Marrimor Objects are made to be as delightful as they are purposeful, with a touch of provocative as well. Each piece comes into being by way of a relentlessly collaborative process, one that balances refinement with irreverence. Tanja brings Swiss sensibilities to the platonic design partnership, and Lauren an East Coast Drive. They create through playful debate, continually pushing their respective boundaries to reach that goldilocks-like zenith between too little and too much. They know they've landed as soon as they agree.
Tanja Hinder, Marrimor Founder
Born and raised in beautiful Switzerland, Tanja has tried on a few different careers for size. Her early resume spans from bicycle shop ownership to corporate marketing and everything in between. In 2004, she moved to Canada, where she serendipitously ended up working for a design firm and found a home for her unique mix of left and right brained skills. An avid and natural entrepreneur, Tanja launched several small businesses prior to founding Marrimor in 2009 and marrying her love of beautiful, hand-crafted design with hands-on, process driven work. She's a color enthusiast and thrives on collaboration, especially when it's with Lauren. Her style is classic and traditional, but she can also be a playful rule breaker at heart and is always ready to throw a modern and surprising curveball at her designs. As a lover of both nature and decadence, you can find Tanja on top of a mountain eating pie and sipping champagne on any given Saturday.
Lauren Bugliarisi, Partner at Marrimor Born
in Toronto, Lauren got the best of both worlds from her parents, a big family from her Sicilian father and big blue eyes from her Irish mother. Lauren's paternal heritage was a significant part of her upbringing and plays a defining influence on her aesthetic and design sensibility — she is drawn to the warm, rustic and old-world appeal of Sicily and the focus on connection and community that comes from being part of a big Italian family. Guided by an adventurous spirit within, she moved from Toronto to Banff and eventually Vancouver, and dabbled in an array of career possibilities, before finding her place as a designer and beginning her career at Marrimor. She comes from a long line of design and construction professionals and is inspired by other creatives who find a solid balance between intense and raw creative output; and an effortless outcome, something she strives for in her own designs. A voracious reader since childhood, when she's not designing, Lauren can be found curled up with a good book or listening to salacious true crime podcasts.
+ Read More
Products From Tanja Hiinder and Lauren Bugliarsi