Dimensions (imperial)
Circular
Ø 37 x H 44.88 x W 43.7 inches

Square
H 44.09 x W 44.09 inches

Rectangular
H 71.65 x W 34.25 inches


Print This Page
Designer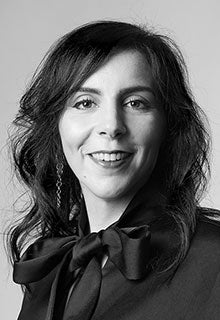 Daring, eclectic, unconventional, and empathetic. This is Francesca Lanzavecchia's approach to design. Born in Pavia in 1983, she graduated in Industrial Design from the Politecnico di Milano, and then attended the Master's program in Conceptual Design at the Design Academy in Eindhoven, where she graduated with honors in 2008.
In Eindhoven, her personal vision of design began to take shape as a prismatic and multifaceted discipline, a universal visual alphabet capable of shaping the existing with poetic and subversive elegance. For her, being a designer means being a researcher, engineer, artisan, and fabulists of life stories, such as those expressed by her projects. These projects serve as both functional and symbolic extensions of ourselves, carrying with them stories, gestures, and daily rituals that create a personal and emotional connection.
From furniture to product design to interior design, her collections reflect a methodological and professional inclination towards Universal Design and the creation of products that are truly accessible to all categories of people. They place the human being at the center, with their aspirations limits and idiosyncrasies.
Francesca is a storyteller, a restless aesthete, and a nomadic-inspired designer. In 2010, she cofounded Lanzavecchia + Wai, a multidisciplinary design studio with Hunn Wai, based in Pavia and Singapore. Since 2012, she has served as the studio's Creative Director.
+ Read More