Designer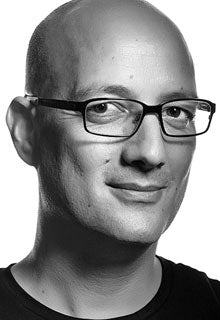 Davide Oppizzi founded the agency DCUBE design espaces lumière SA in Geneva in 2001. He specializes in the creation and development of high quality projects related to lighting, greentech and architecture.
Davide Oppizzi was born in Switzerland in 1971 to an Italian mother and a Swiss father. From these two cultures, he has derived the "Swiss made" attitude and the Latin temperament. From childhood, immersed in nature, he considered and imitated its forms and colors by inventing all sorts of objects. With an almost visceral creative need, he enrolled in an Applied Arts school to further his deepest aspirations.
Thanks to his multidisciplinary knowledge, especially in lighting engineering, design, greentech, the universe of luxury bathing, interior design and commercial fittings, Davide Oppizzi has brought his creations to the forefront of the international scene. Prestigious brands such as Chanel, Louis Vuitton or Graff have entrusted him with projects that illustrate the profound link between a being and the surrounding nature, the nature that feeds their inspiration at all times. His vision is that of an artisan's approach: manufactured, focusing on the object's precious, exclusive and intimist aspects.
The constant quest for pure and authentic lines, those that raise the object to a level of timeless aesthetic refinement, that is both exclusive and functional, Davide Oppizzi is specialized in the art of lighting, the only way, in his words, to sublimate the matter he works in.
Each project he undertakes represents an original and unique setting for Davide Oppizzi, to be conceived upstream of technology. He approaches each of his clients with total attention and listening capacities that will take him to the outer limits of the possibilities between fertile imagination and technological  implementation. Davide Oppizzi is the incarnation of a unique and rare combination of two worlds that are, at first sight, paradoxical: technology and creative sensitivity. This double talent provides him with the capacity to begin by concentrating on the subtle visual memories perceived during his imaginary journeys and then to define them with the use of modern technology.
+ Read More