Designer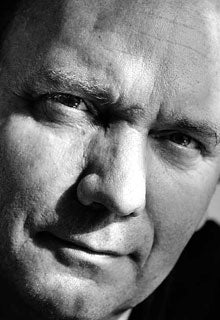 The American Danny Lane is the designer of several pieces of furniture in curved glass FIAM: the ATLAS collection, which includes table, coffee table and desk, and the coffee table with hand-sculpted glass top Shell.
A sculptor of American origin, Danny Lane moved to England in 1975 to study with Patrick Reyntiens, an artist specialized in the use of colored glass. A student of the visionary artist Cecil Collins, he studied Fine Arts at the Byam Shaw School of Art and the Central School of Art and Design. While at school, he experimented with and developed his own concept of design, which continues to be the main feature of his creative process.
Traveling in Europe, he confirmed his early interest in the comparisons of the relationship between art and architecture. In 1981 he set up his first studio in London and began to develop applied art objects using low-cost industrial glass. In the mid Eighties, his understanding of context, the direct use of materials and the combination in his furnishing designs of contradictory materials and shapes made him a key figure on the international design scene.
Together with limited series works for home furnishing, he received numerous commissions for sculpture and architectural projects in both iron and glass. In 1989 he moved to his current studio in Hythe Road.
+ Read More