Designer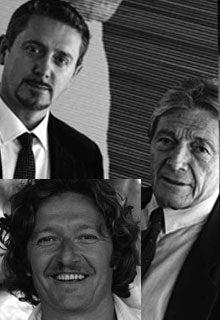 Dante Oscar Benini and Luca Gonzo 
Dante Oscar Benini was the student of Scarpa and Niemeyer. He has developed projects all over the world and in 1997 he started the Dante O. Benini &Partners studio, of which he is the leading partner and chairman, together with Luca Gonzo, senior partner and managing director. 
Through his studios in Milan, London and Instanbul, he works in the fields of architecture, urban planning, interior design and nautical design. Over the years the studio won many awards and rankings in international contests and held lectures in Italy and abroad. 
Helidon Xhixha
Helidon Xhixha was born in Durrës in December 1970. He spent his childhood in his father's studio, from whom he inherited passion for fine arts and  sculpture in particular.  While studying in the academy of arts in Tirana, he decides to move to Italy. 
In 1998 he won a scholarship which allowed him to attend the Kingston University in London and to improve his abilities as an engraver, sculptor and photographer. In February 1999 he earned his degree at the Arts Academy of Brera in Milan. In a very short time, he is acknowledged in the academic field for his style, experimenting innovative techniques and creating with his favourite material: stainless steel. 
Many of his works are on display in Italy and abroad (America, Dubai, Germany, France, Austria, Russia, England, Monaco, Switzerland etc.); he conceived also  several  public works and monuments.
+ Read More