Designer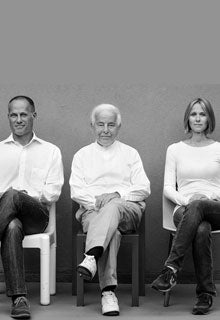 FIAM's partnership with Bartoli Design Studio has allowed the creation of different tables in curved glass: Ray, Ray Plus, Ray Plus Black, Sahara and Rime.

The studio was established in 1960 by Carlo Bartoli; today the team comprises Carlo, Paola and Anna Bartoli.

The studio's research focuses on a poetic language based on simplicity and balance.
The studio's activities embrace a complete spectrum of design services: from the initial concept of product and communication strategies to product development.

In addition to the several partnerships with leading companies in the furniture industry,  Carlo Bartoli has exhibited his work in Italy and abroad:  at the Triennale Design Museum in Milan, the Victoria and Albert Museum in London, the Stadtmuseum in Cologne, as well as in New York, Prague, Hong Kong, Athens and Buenos Aires.
Partnerships and achievements of Bartoli Design Studio
 
Over the years, the studio has collaborated with several leading companies in the furniture industry, such as Arflex, Bonaldo, Confalonieri, Colombo Design, Enrico Pellizzoni, FIAM, International Office Concept, Jesse, Kartell, Kristalia, Laurameroni Design Collection, Laudi Porte, Matteograssi, Move, Nodus Rugs, Rossi di Abizzate, Segis, Skipper, Steelcase, Tisettanta and Ycami.

The studio has also won many awards.

In 2008, Bartoli Design received the XXI Compasso d'Oro ADI award for the R606Uno chair, designed for Segis in partnership with Fauciglietti Engineering. The armchair Breeze, designed for Segis was the winner of the I.D. Design Distinction Award, Apex Product Design Award, Red Dot and IF Award for Good Industrial Design and appears also  on an Italian postage stamp in the "Masters of Italian design" collection. The Tube Sofa for Rossi di Albizzate won the IF Award for Good Industrial Design and this was also selected to appear on a series of Italian postage stamps entitled "Italian Design for a New Domestic Landscape".

+ Read More