Designer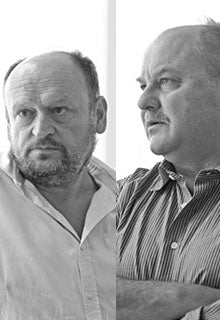 Archirivolto was founded by Claudio Dondoli and Marco Pocci as an industrial design and architecture studio.
Claudio and Marco, during their study in Architecture in Florence, creates with some friends a group of experimental theater.
Continuing their partnership, they choose to deal set of design: the interest in theater strongly influences the setting of the new studio: creativity, sense of reality, respect and attention for the public. The design for Archirivolto is beauty, harmony and freedom: it cannot be bound by strict predefined rules or exist such as a privilege of a social and cultural elite. The designer has a duty to create a universal beauty and bring the design to a growing number of people. The research of materials and processes, focused to achieve maximum results in a quality/price ratio, it's the one of the main activities of the studio.
+ Read More
More Products From Pocci + Dondoli